Integrative General Practitioner
MBBS, FRACGP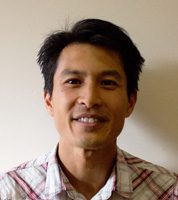 Background
Dr Calan Khong graduated from Monash University in 1997. He is passionate about using evidence-based nutrition, lifestyle changes, supplements and acupuncture in order to improve people's energy and wellbeing.
In 2013, he completed his Graduate Certificate in Acupuncture with Monash University. Dr Khong is currently undertaking a Chinese Medicine degree at the Southern School of Natural Medicine.
Special Interests
Nutritional Medicine
Fatigue
Thyroid Disorders
Autoimmune Disease
High Blood Pressure
High Cholesterol
Diabetes
Heart Disease
Pyroluria (Mauve Factor Disease)
Acupuncture
Qualifications
MBBS (Monash)
Fellow, Royal Australasian College of General Practitioners
Graduate Certificate of Acupuncture (Monash)
Memberships
Australasian College of Nutritional and Environmental Medicine
Royal Australian College of General Practitioners
Consultation Times and Fees
As of May 2015, Dr Calan Khong consults on Fridays, for details on appointment availability and the schedule of fees please contact the NIIM Clinic Reception on (03) 9804 0646.