Visiting Integrative General Practitioner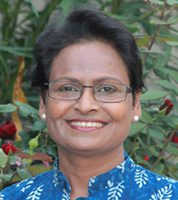 MBBS, DPC, PGDFM, FRACGP
Background
Dr Rashmi Cabena has been practicing medicine for over 28 years and has extensive experience in treating patients with chronic illnesses. She is friendly, easy going, always willing to help. Dr Cabena takes a patient centred integrative approach to treating her patients, maximising their chances of full
recovery and wellbeing. She believes in finding and eliminating the source whilst treating her patients as naturally as possible. With great passion for furthering her knowledge, and with pure dedication to help her patients, Dr Cabena is constantly attending courses, conferences, educational programs and acquiring new certifications in order to keep up with the latest developments in her field.
Patients Please Note:
Dr Cabena is a visiting GP, significant times between available appointments may apply.
Special Interests
Chronic diseases in all ages
Mental Health issues and their Integrative Management, ie GAD, Anxiety, Depression, Bipolar Disorder
Pyrrole disorder/Mauve factor problems
Prophylaxis of health issues with family history & disease reversal strategies
Chronic Infectious conditions like Mycoplasma, Lyme like disease CFS, Fibromyalgia, Post Viral, Post Sepsis Syndrome
Autoimmune conditions
Parkinson's disease
Alzheimer's
Qualifications
MBBS
DPC (Psychological Counselling Diploma)
FCGP (Fellowship General Practice, India)
PGDFM (Post graduate Dip in Family Medicine)
Colombo FRACGP (Fellow of Australian College of GPs)
Australia Primary ACNEM (Nutritional and Environmental medicine)
Memberships
Australasian College of Nutritional and Environmental Medicine
Royal Australian College of General Practitioners (RACGP)
Indian Medical Association, IMA college of GPs